The Congress
Mountain, Sport, & Health will offer an updated panorama, from laboratory experimental studies to the application on day to day practice, on different topics related to mountain sport activities and their impact on human performance and health.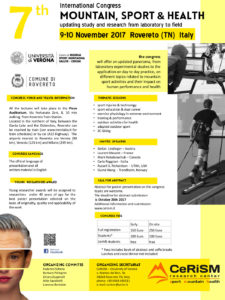 Programme



Thursday, 9 November
8.30 – 9.00     Registration
9.00 – 10.30  Thematic session 1 – Adaptations to training (with/without hypoxia)
Pasqualina Buono (Napoli) – Molecular adaptation induced by training in  skeletal           muscle: influence on human health and longevity
Laurent Mourot (Besancon, FRA) – Training in hypoxia: for better or for worse?
Aldo Savoldelli (Rovereto) – Interaction between hypoxia exposure and exercise  intensity
Letizia Rasica (Milano) – "BEet On Alps": Ergogenic Effects Of Dietary Nitrate Supplementation At High Altitude
Desy Salvadego (Udine) – "BEet On Alps": Dietary Nitrate Supplementation improves Skeletal Muscle Oxidative Metabolism during Prolonged Exposure to Hypobaric Hypoxia.

10.45 – 11.00 Coffee break
11.00 Official opening
11.30 – 12.30      KEYNOTE LECTURE
Russell S. Richardson (Utah, USA) Exercise is the Fountain of Youth: Metabolic and Vascular Evidence
Chair: Federico Schena
12.30 – 13.30     Lunch
13.30 – 14.40      Thematic session 2 – Sport , education and dual career
Francesca Vitali (Verona ) – Supporting dual career and employability of active and former elite athletes: Italian contributions to B-WISER project
Nicola Petrone (Padova) – The ISEA Winterschool in Sports Engineering: a successful synergy between engineers, sport scientists, sport companies
Dual Career projects:
Floriana Cova (Trento) University of Trento: TOP sport
Caterina Rota (Verona)  Academic coach University of Verona: Academic Coach
14.40 – 15.40     KEYNOTE LECTURE
Carlo Reggiani (Padova) –Response of skeletal muscles to life and activity at high altitude
15.40 – 16.00        Coffee break
16.00 – 17.00     Thematic session 3 – Incoming olympic sport

Eivind Wang (NOR) – Blood flow and oxygen uptake during forearm exercise: Implications for rock climbing performance
Maurizio Fanchini (FASI – ITA) – Research and Sport climbing. Where we come from and where we are going.
20.00           Congress Dinner
 Friday, 10 November 
9.00-10.30           Thematic session 4 – Physiology
Fabio Esposito (Milano) Effects of acute passive stretching on anaerobic and aerobic performance
Mark Rakobowchuk (CAN) – Vascular health, eccentric exercise and the involvement of microvescles
Silvia Pogliaghi (Verona) – Laboratory- derived measures of critical intensity: what's new?
10.30 – 11.00        Coffee break
11.00 – 12.15        Thematic session 5 – Endurance Sport

Stefan Lindinger (AUT) – Skitouring in the lab – a testing and performance approach
Chiara Zoppirolli (Rovereto) – Kinematics during Marcialonga Ski marathon: gender and fatigue.
Gianluca Vernillo (Milano) – A call for standardised procedures in the study of running economy in ultra-marathon
12.15 – 13.00     LUNCH
13.00 – 14.00      Poster Session
14.00 – 15.00     Thematic session 6 – Technology in Sports
Francesco Biral (Trento) – Modelling and optimisation of sport performance: exploiting wearable technologies and AI
Francesca Pizzini (Verona) – Role of Neuroradiology in evaluating CNS and in studying functional and structural brain plasticity induced by physical training
15.00 – 16.20     Thematic session 7 – Outdoor activities for health
Federico Schena (Verona) – How to match scientific prescription and health outcomes in a daily life perspective
Raffela Rosa (Verona) – Can Nordic Walking improve motor abilities in people with cognitive impairments?
Matteo Bonato (Milano) – A program of moderate physical activity for people living with HIV
16.30 – 17.30    CeRiSM Lab visit with "Aperitivo" and closing remarks
20.45   Special event – in Italian– free entry (Sala Filarmonica, corso Rosmini Rovereto)     "Vincersi – il film" Documentary movie on a team of Blind Climbers.
Call for abstract
Abstract for poster presentation on the congress topics are welcome. The deadline for abstract submission is October 20th 2017.
Here is the link for the abstract submission.

YIA
Young researcher awards will be assigned to researchers under 40 years of age for the best poster presentation selected on the basis of originality, quality and applicability of the work
Congress Registration
Congress Registration
Here is the link for congress registration
Congress fees
Registration Early On site
Full registration 150 Euro 250 Euro
Students             100 Euro 100 Euro
UNIVR students free*
*Students Fees includes book of abstract and coffe breaks
Lunches and social dinner not included.
Important dates
Abstract 
Submission Oct 20, 2017
Notification Oct 30, 2017
Registration
Early Nov 3, 2017
On site Nov 7-9, 2017
Congress Language

The official language of presentation and all written material is English
How to reach us


The venue of the Congress is trentino Sviluppo, via F. Zeni, 8 just 10 minutes walking from the train station. Please see the

Map
CeRiSM
via Matteo del Ben, 5/b
I-38068 Rovereto TN
tel. +39 0464483511
fax +39 0464483520
mail: cerism@univr.it