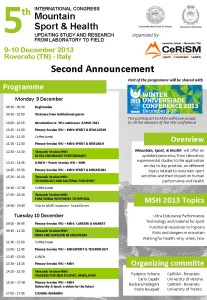 Overview
Mountain, Sport, & Health will offer an updated panorama, from laboratory experimental studies to the application on day to day practice, on different topics related to mountain sport activities and their impact on human performance and health.
Part of the programme will be shared with the Winter Universiade Conference
The participant to MSH will have access to all the sessions of the WU conference
MSH 2013 Topics
Ultra Endurance Performance
Technology and material for sport
Functional responses to hypoxia
Risks and dangers in mountain
Walking for health: why, when, how
Abstract submission
The Organizing Committee of the 5th International Congress "MOUNTAIN, SPORT & HEALTH" invites everyone interested in the congress topics to submit an abstract for consideration as poster or oral presentation
Young researcher awards
Young researcher awards will be assigned to researchers under 40 years of age for the best presentation selected on the basis of originality, quality and applicability of the work
Important dates
Deadline for abstract: November 10, 2013
Notification of acceptance: November 15, 2013
Early Registration: September 1, 2013 – November 20, 2013
Late/on site Registration: November 20, 2013 – December 9, 2013
Registration
The programmeof the MSH 2013 will be shared with Winter Univerdsiade conference 2013.
The registration will give access to both MSH 2013 and WU conferences.
For registration please use the following link
http://events.unitn.it/en/wu-conference2013/registration
Programme
The definitive programme will be available within the 20th of November
The programmeof the MSH 2013 will be shared with Winter Univerdsiade conference 2013.
Accomodation
Hotels rooms are available in the city center, close to congress venue. For booking accommodation please use the following link
http://trento.etour.tn.it/universiade/iscrizione.aspx?type=followers
Important note:
Please check "Rovereto (09/10 December – International Conference on University Sports: Inspiring Innovation)" under LOCATION in the booking page.
General Information
Travel information Located in the northern of Italy, between the Garda Lake and the Dolomites, Rovereto can be reached by train (www.trenitalia.it) or by car (A22 Highway).
The airports nearest to Rovereto are Verona (90 km), Venezia (125 km) and Milano (245 km).
Travel information
Rovereto is a small and nice city, mainly known for its history and for actual cultural events. Placed on the Adige Valley, Rovereto can be shown as one of the entrance doors for the Alps and Dolomiti and its new, internationally known, Modern Art Museum building (MART) will host the Congress.
Organizing committe
Federico Schena – CeRiSM Rovereto, Università di Verona
Carlo Capelli, – Università di Verona
Barbara Pellegrini – CeRiSM Rovereto, Università di Verona
Paolo Bouquet – Università di Trento
Scientific Secretariat
CeRiSM
CeRiSM phone: +39 0464 483511 – fax: +39 0464 483520. http://www.cerism.it